Thanks to Deb's hard work, we have a preliminary schedule available! Once you've browsed the schedule you can choose which sessions you plan to attend and share them on your favorite social networks. Additional session confirmations will be announced soon – stay tuned!
---
Featured Sponsor
Designed for marketers and decision makers who need to stay ahead of social networking trends, SmartBrief on Social Media is a FREE daily e-mail newsletter. It delivers hard-to-find news on creative social marketing campaigns, technology, research,
and best practices.
Learn more
---
The Latest Blog & Social Media News on the BlogWorld Blog & Around the Net!

Philly's Blog Tax: You're Mad for the Wrong Reasons
Last week, Valerie Rubinsky of the Philadelphia City Paper broke a news story that's been getting national attention. Bloggers in this city are now required to purchase a $300 business license if their blog is designed to make money. For many bloggers, that price far exceeds the amount of money they make on their blog. But no matter the case, if you're angry, you may be mad for the wrong reasons!
Read More

The Redesign Disaster
Redesign disasters are very real, and yes, you should be scared. These disasters typically happens due to one of two reasons: 1. The redesign wasn't actually needed. 2. The redesign wasn't well planned. Learn how to prevent your own redesign problems!
Read More

How to Get Published on a Premium Tech Blog
For most tech bloggers, influence is about becoming a thought leader on a specific topic in order to reach a business or personal goal. So whether you're the world's foremost Android expert or a complete gadget nut, the reason to strive for influence is to establish credibility – and you can't do that alone. Someone already influential needs to vouch for you.
Read More

Foursquare Check-In Campaigns: Worthwhile for Consumers?
More and more companies are jumping on board with check-in campaigns and it seems a great way to enhance business.
Read More

Adweek: More Marketers Start Blogging
More companies are using blogs as marketing tools, according to a new report from eMarketer. The firm estimates that one in three companies will have a public-facing blog for marketing this year, rising to 43 percent by 2012.
Read More

The Blog Herald: Promoting Your Community News & Events Blog
The podcasting audience is not only bigger than they were in 2006, they are different. In 2006, the podcasting world was full of bright thinkers with big ideas to capture the nascent podcasting audience.
Read More
---
Whether you can only fly in for a day, or you're here all week, BlogWorld & New Media Expo offers several conference packages to help you maximize your time in Las Vegas. Registering early for the best discounts!
You can get a Full Access Pass for almost 25% off the $1195 regular price by registering before September 16th!
See all DISCOUNT PRICES and details here.
BlogWorld & New Media Expo offers more Education, Networking and Business Opportunities in one place than any other single event, and we've negotiated some of the lowest hotel room rates ever with our partner hotels to make this a cost-saving trip too! Book your room at a discount before they're gone and get the super low $109/nt rate right on-site at our new upscale event venue, the beautiful Mandalay Bay Resort & Convention Center … including WiFi internet at NO CHARGE in your room!
GO HERE for all discount hotel prices and online booking.
One economical trip. One weekend. One BIG show you can't afford to miss!
---
Featured Sponsor
Attend Web's Largest Online Facebook Marketing Conference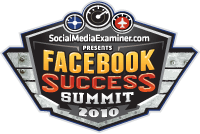 Facebook Success Summit 2010 is a special online conference designed to help you master Facebook marketing (brought to you by Social Media Examiner). Join Brian Solis (author, Engage!), Mari Smith (author, Facebook Marketing), Jesse Stay (author, FBML Essentials), Paul Dunay (author, Facebook Marketing for Dummies), experts from Intel, Microsoft Xbox, Cisco, SAP and the Washington Redkins; Darren Rowse (author, Problogger), Jay Baer (Co-author, The Now Revolution), and Michael Stelzner (Social Media Examiner)–just to mention a few. Click here to save 50%.
---
Don't forget to use #BWE10 as our official Twitter hashtag and bookmark this link to stay up-to-date on all the conversations; discounts, event highlights, private parties, session details, and meet your fellow attendees! Follow @blogworld or #bwe10 on Twitter to see the latest conversations.
And don't forget to join our Facebook page for even more info and conversations!
---
Meet your next customers by becoming an exhibitor and sponsor at BlogWorld & New Media Expo 2010, taking place October 14th-16th at the Mandalay Bay Resort in Las Vegas.
BlogWorld & New Media Expo attendees have a reach that extends to almost 180 million people each month with online content and social networking – therefore your reach will also extend far beyond the floor. But to grab a sponsor spot, or exhibit space, you need to act now.
Social Media Business Summit
The Social Media Business Summit is the world's largest social media business conference! If you are a marketing professional or business owner, don't miss the exclusive Social Media Business Summit conference presented by BlogWorld & New Media Expo. A world class opportunity to understand how to leverage Social and New Media to supercharge your company's online presence and social community engagement, marketing campaigns and initiatives and even enterprise-wide communication with the latest online tools! Each year, this comprehensive 3-day conference features more leading Social Media experts than any other event. It's a one-stop, cost-effective way to jump-start your online marketing strategy and hit the ground running with business growth for the new year! (Don't forget to Register before September 16th and get nearly 25% Off your Full Access pass which includes access to the exclusive Social Media Business Summit conference tracks! GO HERE for DISCOUNT PRICING and online registration.)
More Social Media Business Summit Information