… by Annie Wallace

It can be easy as a freelance writer to get hung up on those paid ghostwriting positions that become a part of every paycheck. It can also be easy as a blogger to forsake everything else in favor of your own blog. So, what happens when you get burnt out, or in a rut? For most of us, this becomes a time to seek out something to bust away from the routine, and guest blogging is a great way to do that.
Not only will writing for another blog give you a chance to do something a little different- which is a benefit in itself- but it will allow you to widen your readership by tapping into a new pool. Different blogs have dedicated readers, and those readers just might follow you back to your own if they enjoy your posts. This means more traffic, more subscriptions, and more chances to interact, which can only help inspire your own writing.
But how can you find guest blogging positions in the first place? It might seem kind of hit and miss, but there are a few ways to narrow it down and get your started.
Begin With What You Read
Some of the most dedicated blog followers are bloggers themselves. Therefore, it is safe to say that you probably have a list of blogs right now that you check out every few days, or perhaps even daily. These are good places to start, especially if you are a frequent commenter. Not only are you going to be familiar with the niche, but you are going to possibly be known as a reader, and can point out in your application that you can refer to past posts.
To find out if they allow guest posting, you can check out their website. There should be an FAQ section, or even a button that that says "Write for Us!", or something to that effect. You can also do a Google search by using "SITE:site.com guest post", or similar keywords to pull up the information. For example:
SITE:site.com guest author
SITE:site.com guest blogging
SITE:site.com guest posting
And on top of all, you can combine the four search queries above: [SITE:site.com guest author OR SITE:site.com guest blogging OR SITE:site.com guest posting OR SITE:site.com guest post]
Fun!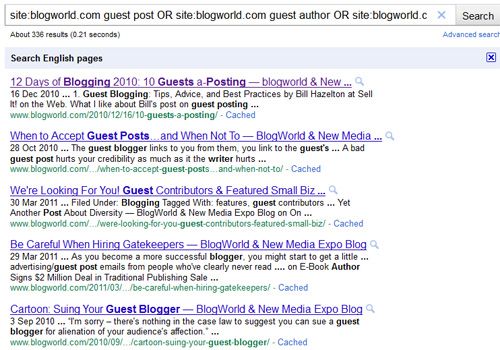 If the blog has no info on guest blogging, you don't have to give up. Drop them a quick email and ask if they would accept guest blogging.
Join a Guest Blogging Site
Because blogging is such a huge part of social media these days, there is an increased call for guest bloggers to help generate traffic without paying for posts (or not paying much). This is usually reimbursed through offering a byline and a link to the writer's own site, which can pay for itself and them some in exposure.
These sites will let you connect with bloggers who are looking for posters. You can search through ads, or post your own so others can contact you. Currently, one of the more popular blog posting sites is MyBlogGuest, which provides a general format for finding positions in any genre. I've been a member for a year or so and have had huge success both sides: guest blogging and accepting guest articles.
My most favorite feature inside is the Articles Gallery which makes guest posting easy: authors upload their unique articles there and the blog owners can come, preview any article and offer to publish it on their blogs. It works wonders in terms of providing high-quality content on a regular basis:
Utilize Twitter Search
Twitter has an excellent live search that fits in with their real time updating format. You can use this to find the most recent posts by people who say they are looking for writers. Since the social networking site has become such a heavily used marketing tool, you can bet that there will be plenty of calls for guest bloggers posted regularly.
The issue is that they are posting in a casual way, and so the keywords used can really vary. You have to be specific, and keep searching using different possible combinations. For example, try:
Guest post
Writers needed
Need writers
Want to write?
Want to post?
Guest bloggers
Write for us!
Write for
Blog for
Blog for us!
Guest writers
Note! Twitter search also supports OR operator that allows to combine several searches in on. Go play!
Any other combination that says what you want will also help.
Guest Posting is Easy!
It isn't hard to find positions, because there are so many floating around the net just waiting to be taken. If you have found yourself in a rut, or you just need to draw more readers to your own site, guest blogging is a great option. Get your portfolio together, get searching, and get writing!
This is a guest post by Annie Wallace, a viral marketing blogger and mompreneur. Please follow Annie on twitter as @ViralMomTweets