Medical bloggers at Blog World Expo, October 15th, 2009
(The following post has been written by Kevin Pho, MD, blogger and medblogger track panelist. The original post can be found here, at Kevin, MD)
********************
I have been graciously invited to participate on a panel in the medical blogger track at Blog World Expo 2009, held in Las Vegas on Thursday, October 15th.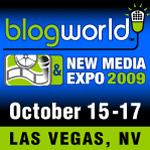 My panel, entitled, The State of the Health Blogosphere: We've Come A Long Way, Baby, will be moderated by Emergiblog's Kim McAllister. I am honored to be joined by Nick Genes of Blogborygmi, and founder of Grand Rounds, as well as Kerri Sparling, a leading diabetes patient advocate who blogs at SixUntilMe.
I started blogging in May of 2004, and yes, medical blogs have come a long way. Just the fact we now have a dedicated track at the premier new media expo is a testament to that.
When I started, blogging was on the media fringe. The medical profession didn't know quite what to make of it, and was hesitant to embrace the medium. Fast forward to today, and it is now standard that medical institutions be engaged with social media, whether it be blogs, Twitter, Facebook, or YouTube.
Personally, KevinMD.com has opened many doors for me, including the opportunity to write for, and be interviewed by, mainstream media organizations. And with health reform dominating the conversation, it's gratifying to know that I'm doing a small part to make my voice heard.
Thanks to the tireless work of Kim and Val Jones of Better Health, for realizing the vision of a prominent platform at a premier media event.
Thanks also goes out to sponsors Johnson & Johnson and MedPage Today for their essential contributions.
I will be joined by the who's who of the medical blogging world, with three other panels planned:
i) Staying On The Good Side of HIPAA: Safe and Ethical Blogging Practices
ii) Blogging For Change: How To Influence Healthcare Through Blogging
iii) The Value of Blogs To Hospitals, Industry, and News Organizations
Here are further details on the medblogger track, including information on registration and hotel discounts for other medical bloggers.
I hope to see you all there.